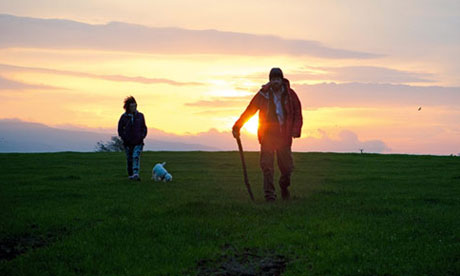 Film4′s senior commissioning executive Katherine Butler explains how Kill List director Ben Wheatley came to direct his next film, Sightseers, from a script by Steve Oram and Alice Lowe. Sightseers premieres at Cannes 2012…
We first met Steve Oram and Alice Lowe around 5 years ago when Big Talk came to us with their short film they'd made about these two caravaners. Like Big Talk and Exec Producer Edgar Wright we loved the short film, the characters and the idea of this as a feature. So we went into development, and Steve and Alice started work on their first feature film script. Sam Lavender (our head of development) and I loved going to meetings with Steve and Alice and the Big Talk team, mainly because they would drift into character throughout our meetings, and we always left feeling we'd been sitting down with (and slightly spooked by) those strange but friendly cagoule-wearers they were writing.
Steve and Alice, together with Big Talk, were brilliantly persistent in the way they worked through several drafts until it felt like they had really found the heart of the film. In the meantime, Big Talk and we had seen director Ben Wheatley's first film, Down Terrace. It blew us all away – a completely new voice doing a genre crime family film in an utterly original, new way. We knew as soon as we saw it that we wanted to work with him. And so when Nira Park at Big Talk called us to say they wanted to attach Ben to Sightseers, of course we thought this was a brilliant idea.
In the meantime, we started work on Ben's film Kill List which had been brought to us by Claire Jones and Andy Starke of Rook Films, via Warp X, and which ended up being fast-tracked to production. This was a wild ride of a film to work on – none of us knew exactly what to expect. Robin Gutch (Warp X's executive producer) and I went on set during the incredibly swift shoot, and whilst Robin was roped in to hold up light reflectors, I hid in the corner and watched the fastest shooting I had ever seen. The organisation of these guys was incredible, and the way the team worked together with cast to shoot so fast was a real lesson in low budget film-making.
When I first saw a cut of Kill List I was completely stunned – I was one of the first people to greet the film with what became known as 'the Kill List stare' where audiences are rendered speechless by its deeply unsettling nature. I knew it was something extraordinary but had absolutely no idea how anyone else would respond to it. Talking to Ben and his team during the editing process was often surreal (I remember in particular long discussions about how many blows of the hammer should stay in). When, trembling, I brought in the rest of the Film4 team to see the film, they too were blown away by it.
SXSW followed and Kill List screened at midnight which meant we had a long, long evening to be incredibly nervous – we made our way through many mojitos! The screening itself was insane – the Alamo South Lamar is one of the best cinemas I've ever been to, and its owner, the legendary Tim League, opened proceedings with a US v Europe beer chugging competition… Several people staggered out during the course of the screening – and sitting there having no idea how the film was going down, we were convinced it was because they didn't like it. In fact, it was due to them needing to go and lie down after the full effects of the beer chugging had taken hold. The audience greeted the film with a mixture of massive enthusiasm and again, the Kill List stare. And then the blogs and tweets started coming through. We slowly realised it was something of a hit – and as the festival went on, SXSW took Kill List to its twisted heart.
We had all loved our Kill List experience, and we loved the film we thought Sightseers could be. When STUDIOCANAL came on board to distribute Kill List in the UK they joined on Sightseers too, and together with the BFI, we had a fully financed film to make.
The Sightseers shoot was gruelling for the team – a cold, wet tour round some of the more out of the way campsites of Northern England. I got to set for one day, travelling for what seemed like miles in the Sightseers mini-bus to a sodden caravan site in North Yorkshire. I watched shamanic dancing and eggs being cooked. And whilst this time there was a bit more money, the production team still worked at a prodigious rate.
When a film like Sightseers gets selected by Cannes, there is a huge sense of excitement and pride and not a little amazement. Not because it's not good – it's a truly great film – but because it's the kind of film that's all about the reality of low budget film-making in the UK today. Long wet, cold, shoot days; an incredibly tight schedule; a film-maker, his producers and their  team who've come out of micro-budget film-making not very long ago at all; the long-burning passion and determination of Alice and Steve who've been living with these characters for years; and a very particular film-making voice which is both hilarious and twisted. And it's all about caravanning. It doesn't get more British than that. Sightseers, we salute you, and can't wait to see your caravan sail up the Cannes Croisette.
Three Film4 titles will have their premieres at this year's Cannes: Sightseers, Walter Salles' On the Road and Fyzal Boulifa's The Curse.  Find out more